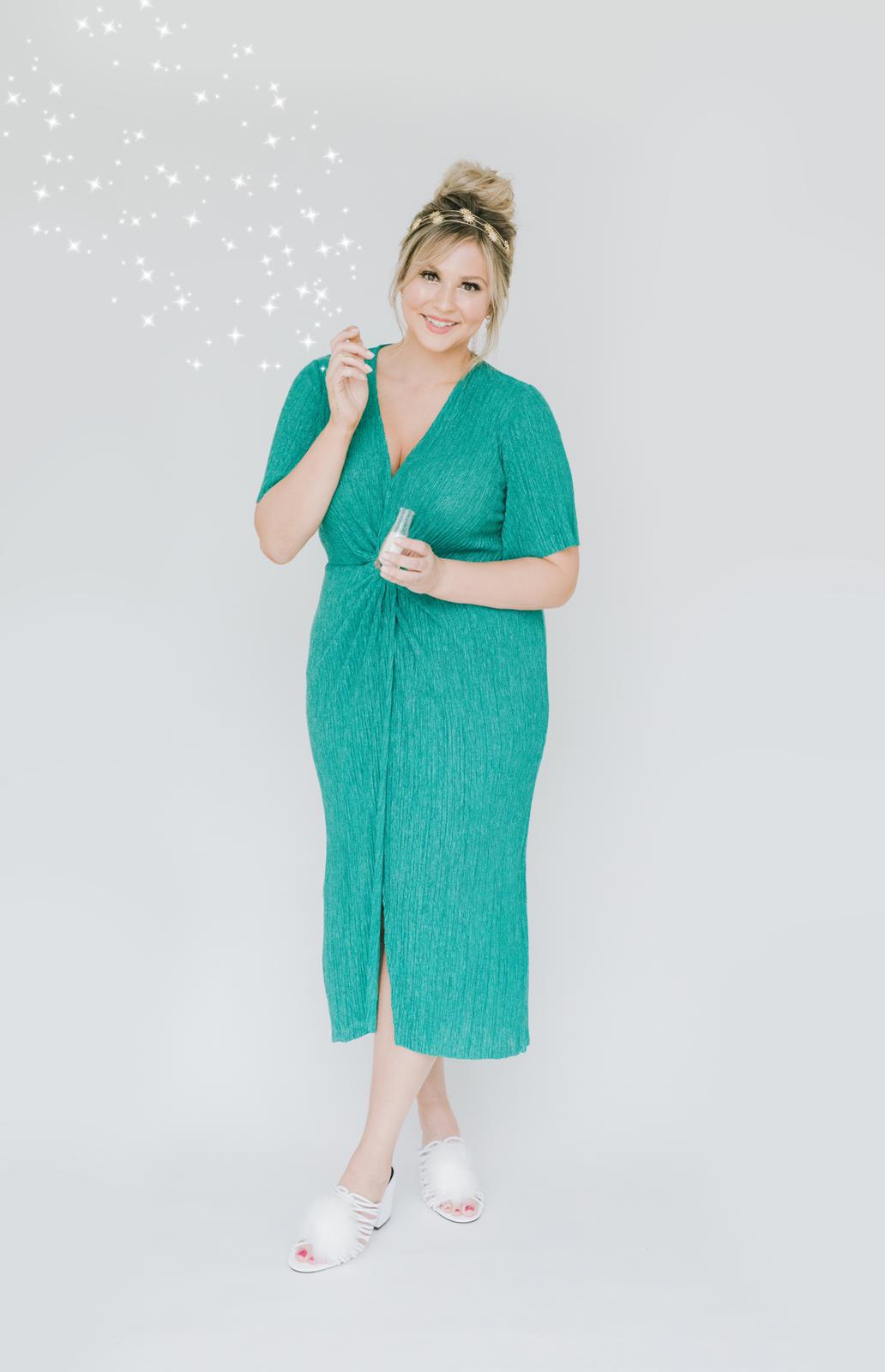 Tinkerbell wears an iconic top knot, a little green dress, and white Pom-Pom shoes. Our modern tink, hairstylist Amy, was very similar. Amy found her green dress at Nordstrom and DIY'd her shoes with a pair she found on clearance at DSW and some white pom poms from Amazon. Abby styled her hair in a tousled top knot and Amy was so committed to the character she actually got bangs! Makeup artist, Taylor, gave her a lime green winged eye that was accented with gold sparkles. Her face makeup was very soft, glowy, and natural with pinky cheeks, lips, and glitter brows. The more glitter the better with Tinkerbell, because pixie dust, DUH!
BELLE: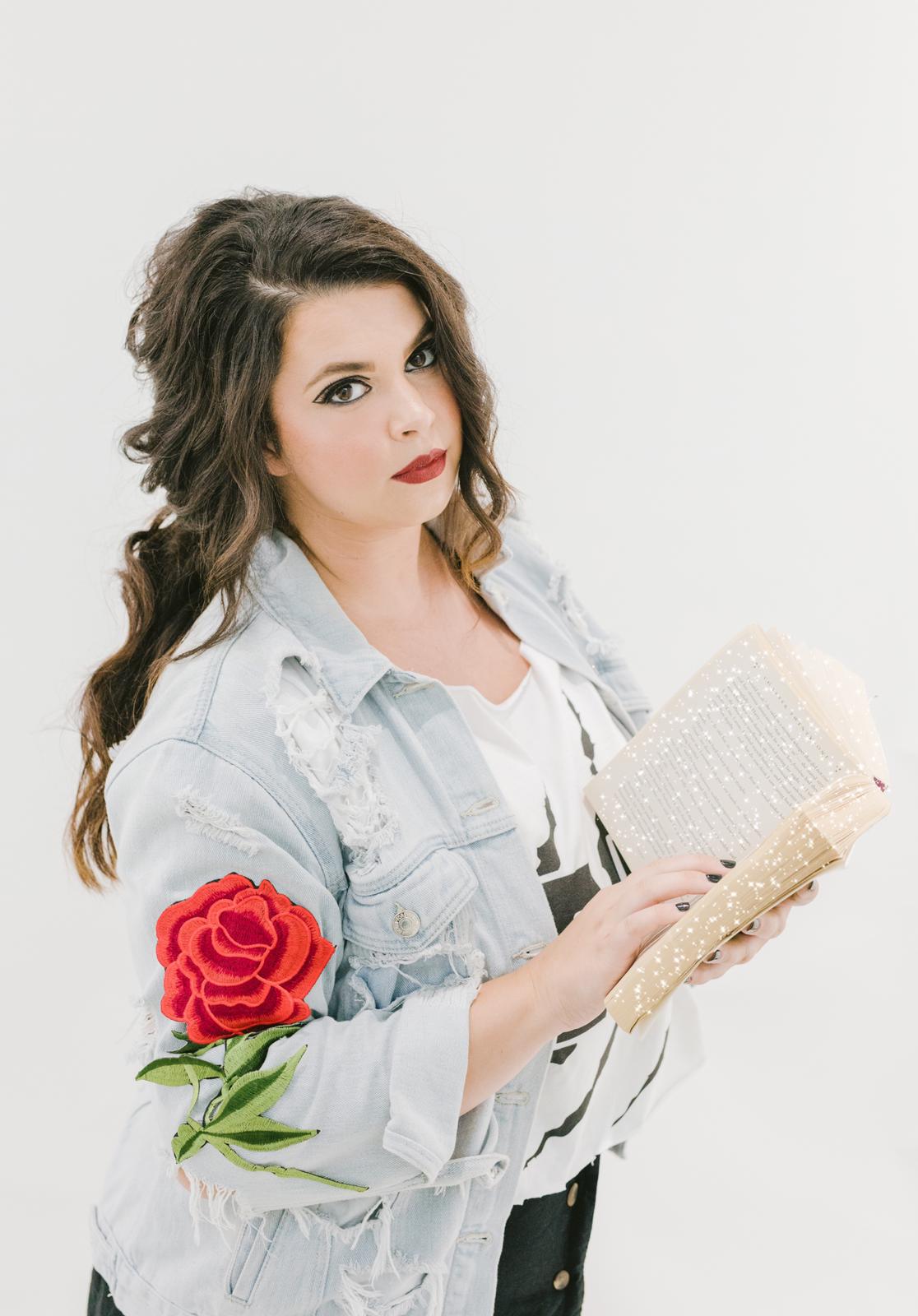 We love the confidence and intelligence vibe that Belle gives off, so we decided to go with those words for our inspo for Taylor's modern take on her. She wears a blue denim with a rose patch on her sleeve, while holding one of her favorite books. I decided a low tousled pony was the perfect style to modernize Belle's look. Amber killed it on Taylor's makeup. She decided to do a strong graphic liner and deep red lip to give off the bold and unashamed confidence Belle exudes!
MERIDA: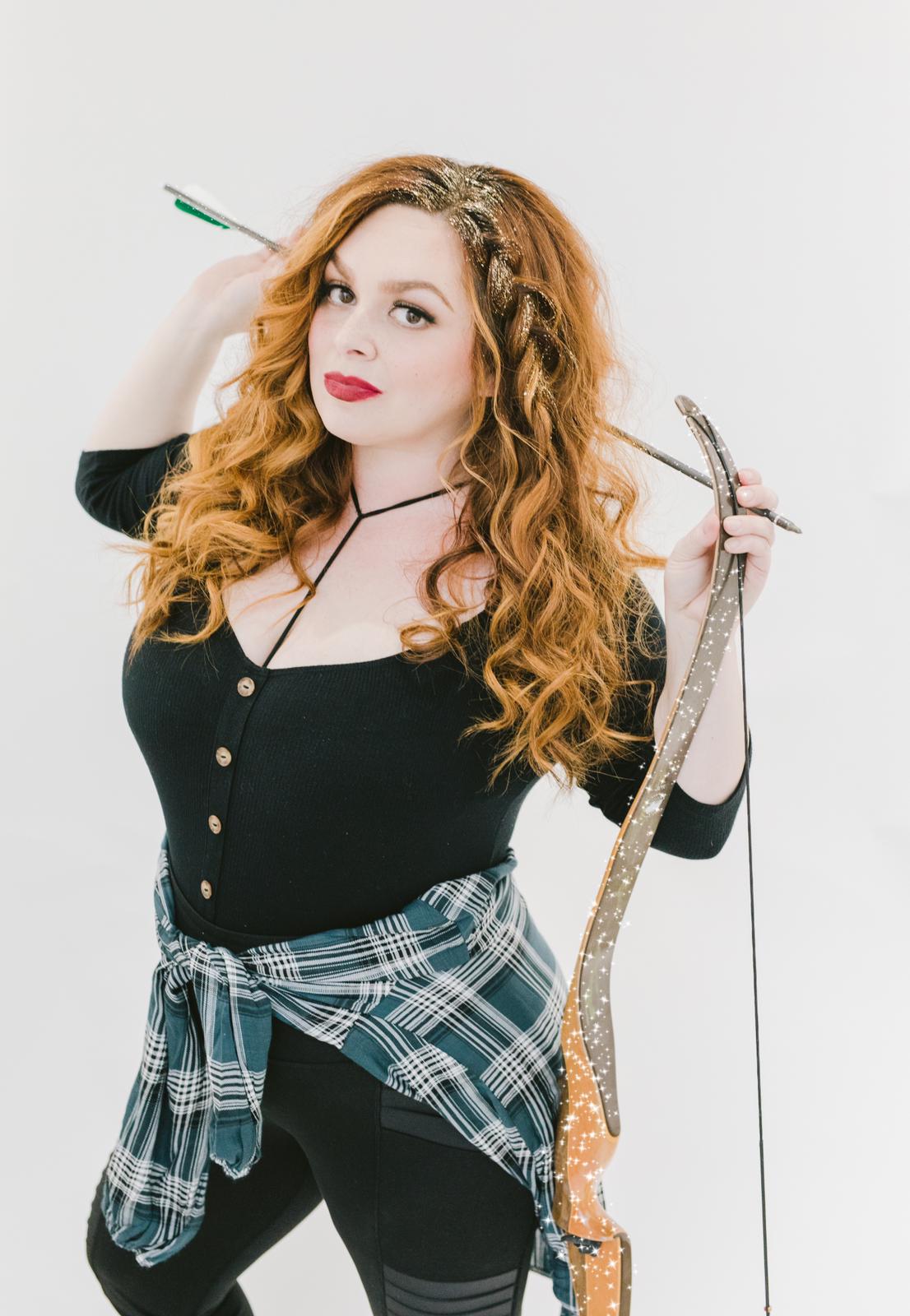 Merida has to be one of our favorite princesses. She's fierce, bold, and really knows how to handle a bow and arrow! Kylee's Merida outfit came straight out of her closet so this look is totally doable! The green plaid around her waist makes the whole look come together seamlessly. Makeup artist, Daizy, chose to do natural makeup with the cutest freckles and a berry lip. Megan used the tiniest curling wand to give her bouncy ringlets, and added an undone braid because all warrior princesses need a braid!
SNOW WHITE: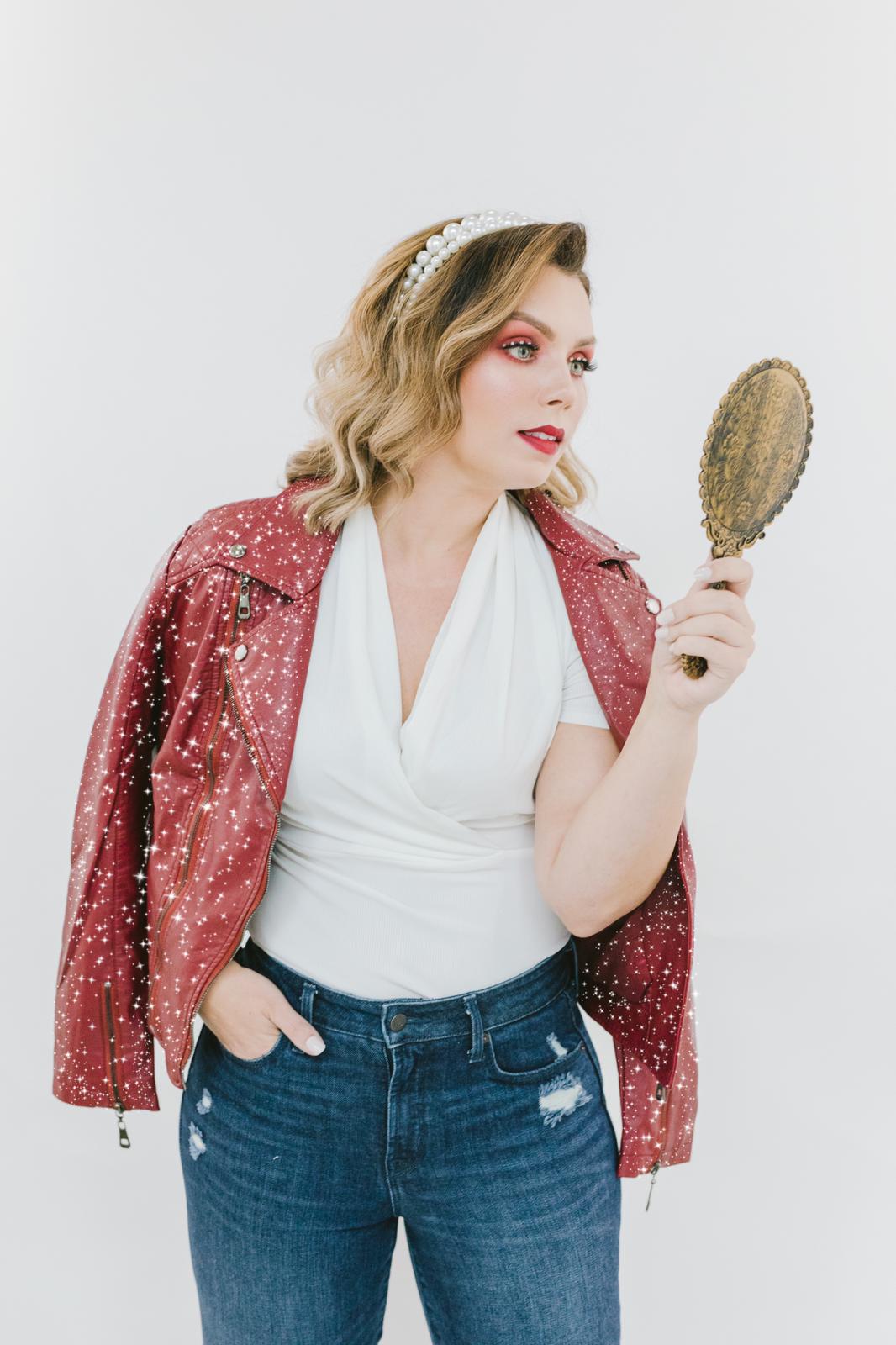 We couldn't do Disney Princesses without including the OG, Snow White! Our modern take on this classic beauty included her classic red lips but we decided to give her a little edge. Makeup artist Kylee used a deep red on her eyes and accented the look with white pearls across her lash line. Her skin is creamy white and glowing in all the right places! We wanted Snow White to give off regal vibes so the old hollywood waves Amy created and the pearl "crown" ($8 on Amazon guys!) did just that. For her outfit she pulled some highwaisted jeans out of her closet, tucked in a white top and found a fun red leather jacket online.
JASMINE: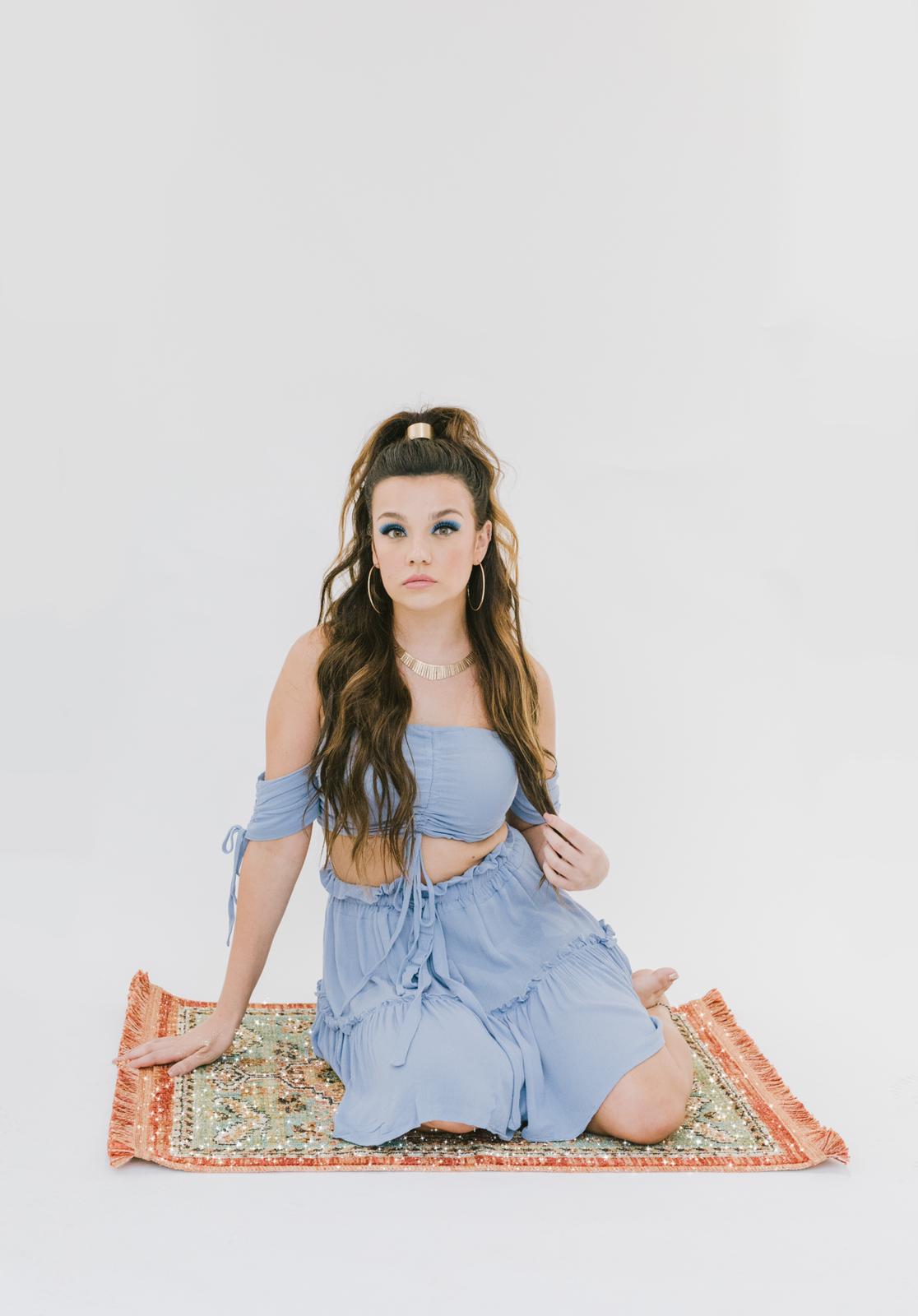 Daizy and Jazz are two peas and pod. So many of you guessed that she would be Jasmine and you were spot on!! When dreaming up our modern take on this sultry princess we wanted to go a little out of the box. Kim K was the hair inspo that Jenna used when creating this sleek half pony. She took Daizy's hair from shoulder length to this long flowing mane by adding mass amounts of extensions. For her modern makeup look, Taylor did a graphic design with a blue cream shadow and of course gave her big full lashes! Her outfit is a 2 piece set from Amazon and that cute little magic carpet is from Target!
ARIEL: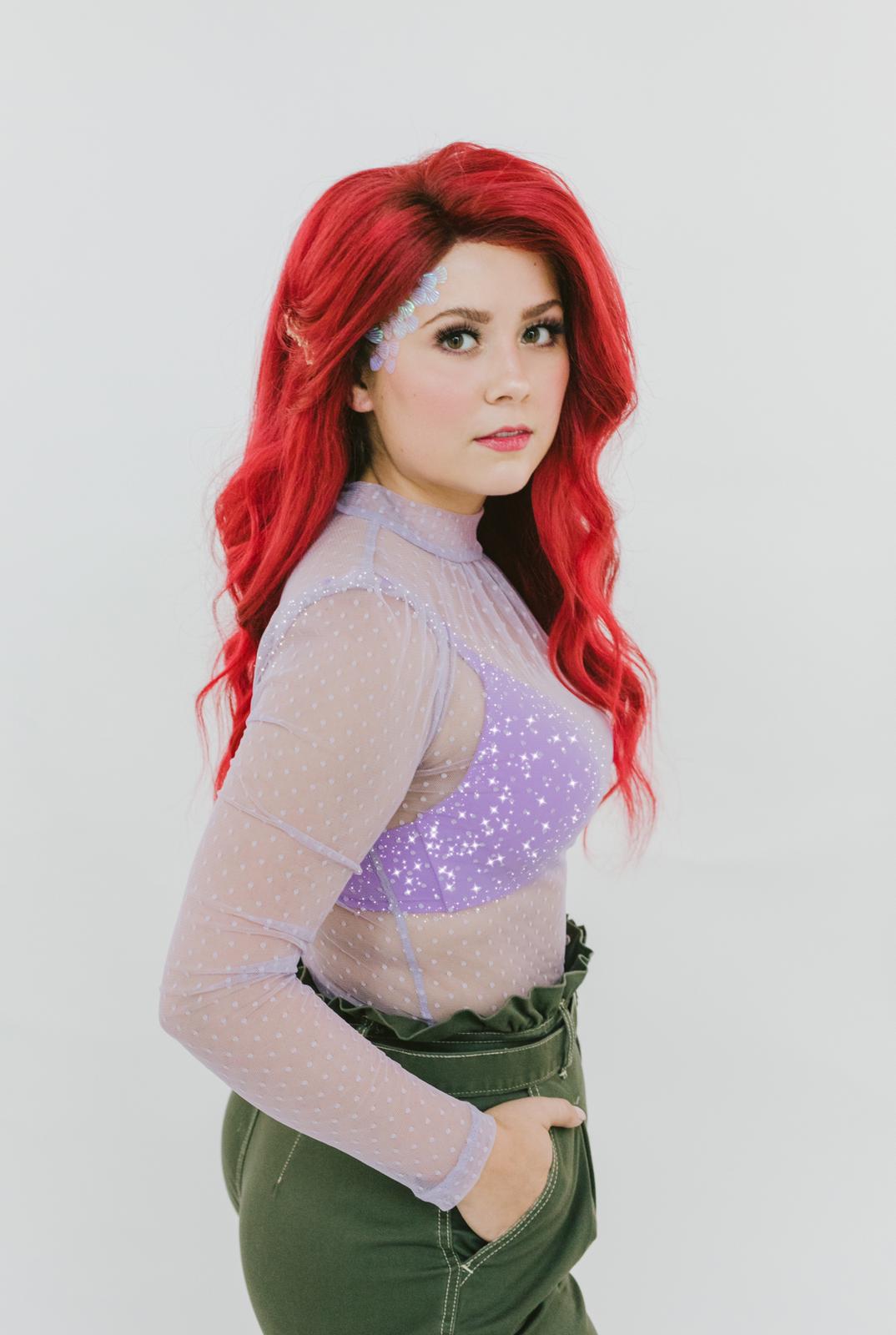 Ok how cute is Ariel, I mean Abby, oops! That red wig, and her adorable face, I can't even tell them apart. Ariel isn't Ariel without her iconic red hair so this look is the only one we felt needed a wig. Jenna styled it in a beachy wave with some volume. Daizy added sea shell sequins to Abby's makeup, and used eyelash glue to get them to stick. Her makeup had a lot of pink tones, sheer red lips and fluffy lashes. Her purple bra came straight from her closet, and through top from Forever 21 gave her a modern mermaid look.
ELSA: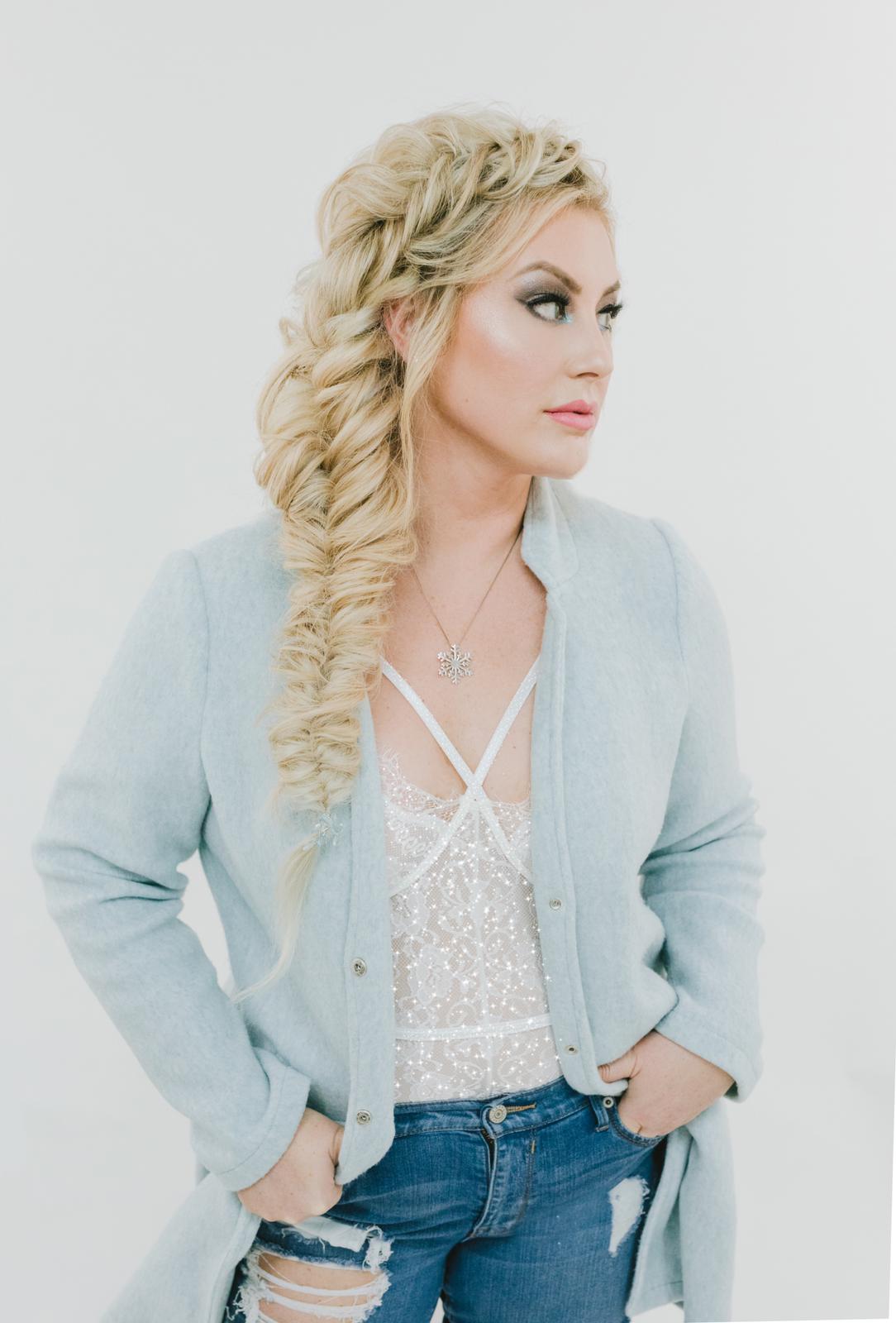 Did the braid just give it away that easy? Jenna is Queen Elsa. I started with an inside out fishtail at the very top of her head, and slowly went to a normal fishtail. When I was done I carefully pulled apart the braid, and gave the hair lots of texture. Even though Elsa is animated, she is a makeup girl with that black wing, and blue shadow. Amber used that as inspo giving her a cool toned smokey eye, and incorporating a bright blue on the inner corners of her eyes. Although the cold never bothered Elsa, we had her wear a light blue coat, and white body suit tucked into some distressed jeans.
ANNA: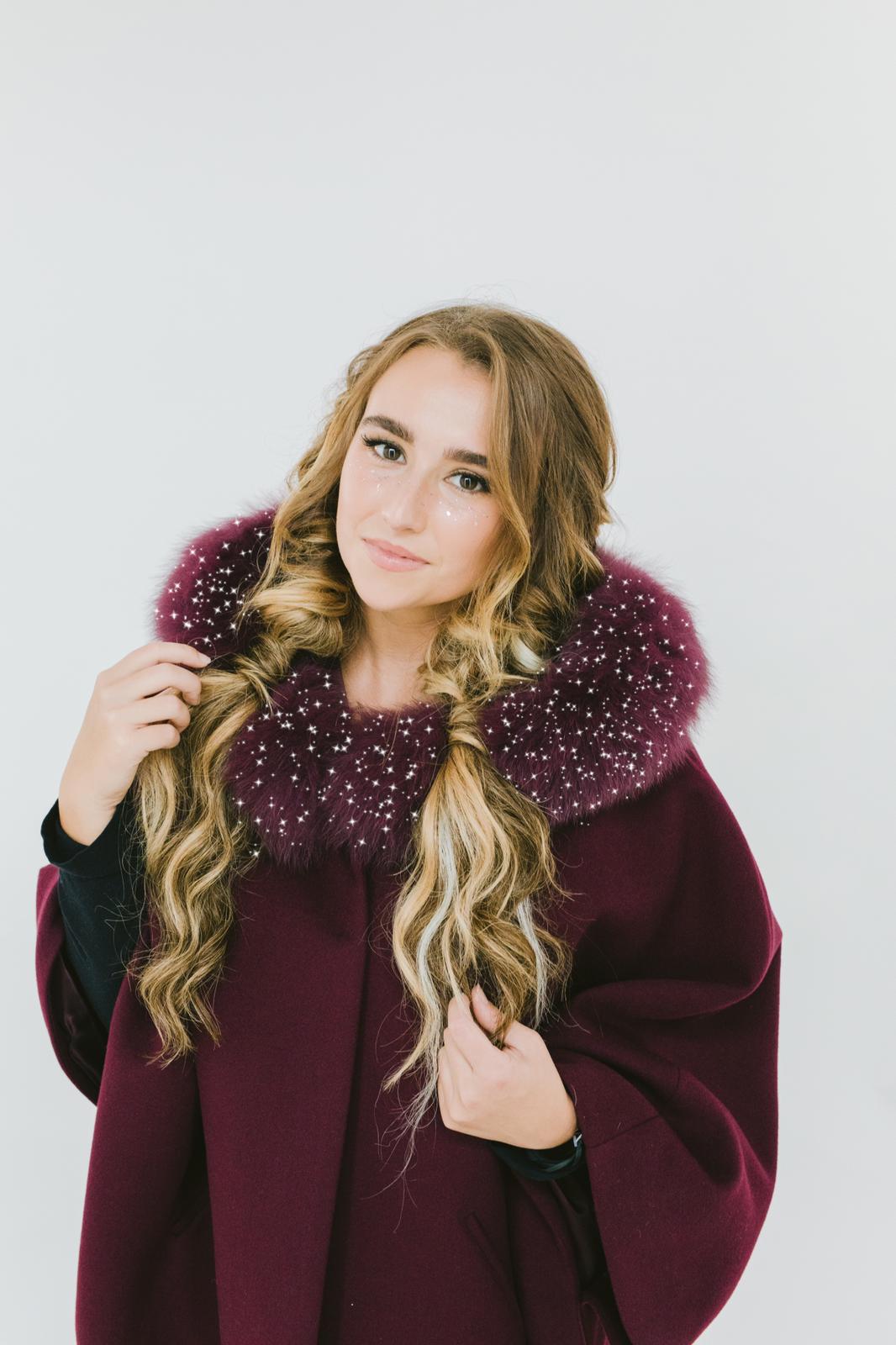 Did someone say glitter freckles?! Anna is sweet, bubbly and trusting. We wanted her silly personality to shine with this makeup and hair look. Megan gave me, Anna, tiny little glitter freckles that reminded us of snowflakes. Her makeup was fresh faced and glowing with wispy lashes and fluffy brows. Abby added the perfect modern twist to the normal hairstyle princess Anna wears, bubble braids! Since we wanted our Elsa and Anna to compliment each other, I got a furry maroon coat. Arendelle is freezing cold, ya know!?
CINDERELLA: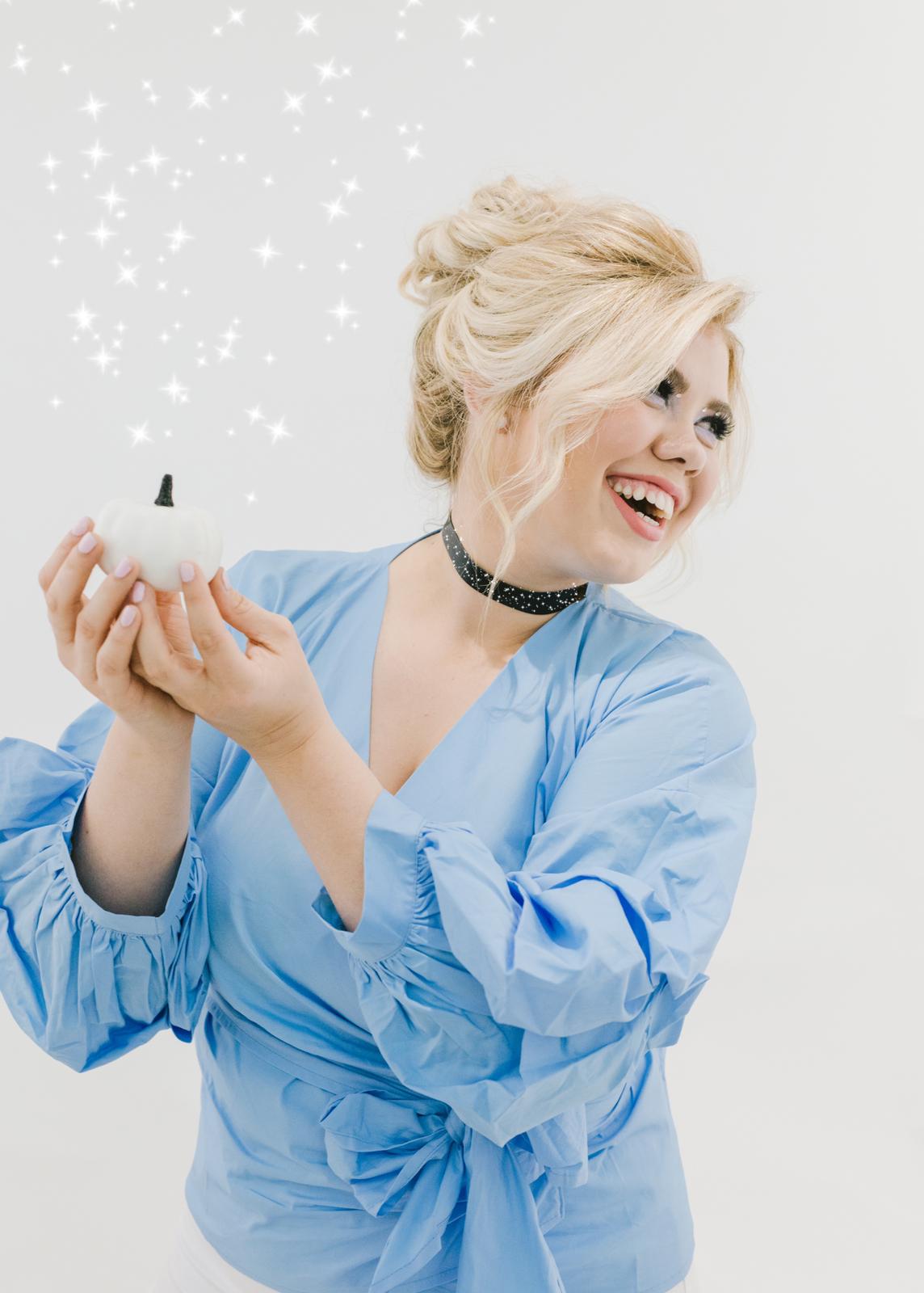 Cinderella had timeless style, even in 1980! That black choker is so cute, and still trendy today! The iconic Cinderella bun was a must, so Amy gave her the "Sunkissed" version. It was a perfect combination of a tousled top knot and medium height updo. The face framing pieces gave it a more modern feel and a bit of romance. For her makeup, Kylee gave her a soft blue smokey eye, light pink lip, and bold lashes. She added little crystals to Megan's eyes for a princess like feel. Her light blue top is feminine and regal (and totally affordable)! Pair that with some white jeans and clear heels and voila, you're Cinderella!